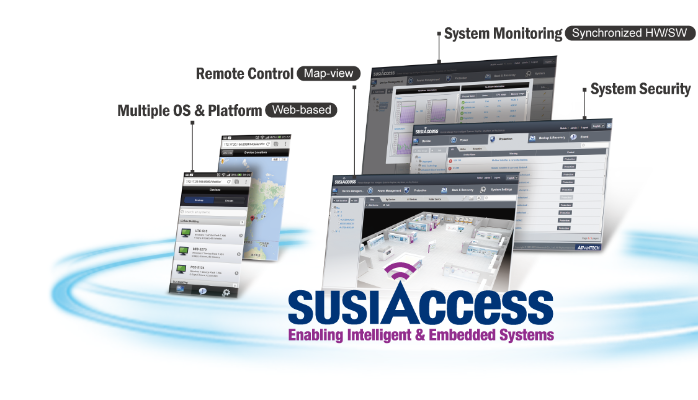 SusiAccess v3.0 is a remote device management application from the engineers at Advantech's Embedded Computing Division.  The purpose of the application is to centralize monitoring and managing of remote client systems all in real-time.  Because the application is designed to be cloud-based system integrators will find that it is easy to download and upgrade essentially all applications at any given time.  SusiAccess v3.0 is included with all Advantech embedded computing products and is ready-to-use.
SusiAccess v3.0 offers a rich array of module applications.  The remote monitoring module records CPU temperature, fan speeds, voltage levels, HDD/SSD temperature, and network connections.  All of these data points can be enabled or disabled and warning ranges are fully configurable by your network administrator.  The remote monitoring module is also equipped with email notifications and alarm functions to alert the administrator if a system is in trouble.  The remote on/off module can be used to schedule when the systems turn on or off, or, can immediately issues on/off commands.
In the event that a system is in trouble or, requires service, the remote KVM module will allow the console to control the client system directly.  Ultimately, being able to assess problems and perform maintenance immediately (and remotely!) will reduce the overall service time and potentially use less resources getting a system back up-and-running in the event of an untimely system crash.  In the event that a remote system fails, SusiAccess v3.0 is equipped with a system backup module using the familiar Acronis TrueImage backup utility software.  A backup schedule can be set by the administrator to their standards.  When errors occur, the system administrator will receive an automatic notification through email alerts, SMS, and/or popups on the console system.  If an agent system experiences a major crash it will automatically reboot and begin running diagnostics and attempt to deploy the system recovery tool.
Cyber security is one of the biggest concerns in almost every industry there is today, and system integrators want to provide their clients with the best solutions available.  Data, especially raw data, that some remote devices collect, is one of the most valuable treasures around.  The system protection module, powered by McAfee embedded security can automatically detect and prevent system tampering.  This same cyber security technology is already in use in ATM's and medical equipment around the world.  SusiAccess v3.0 offers an advanced system protection module that will automatically send emergency popup notifications to the console, and/or SMS & email alerts to the administrator(s) if a security breach or tampering is detected on an agent device.
Sean Nugent | Coast Inside Sales Engineer