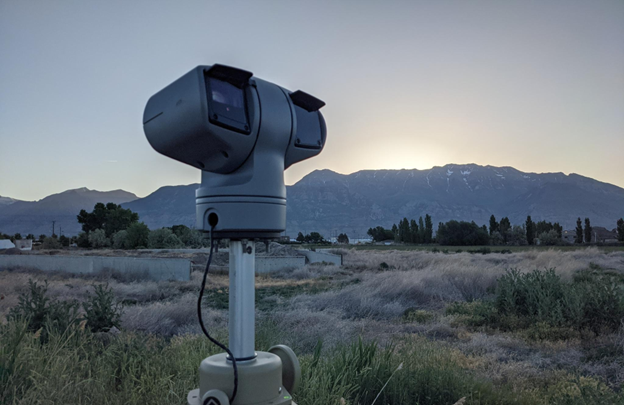 Drone usage continues its sharp climb in commercial applications, among them infrastructure inspection and environmental assessments. But what happens when drones are used for nefarious purposes, such as illegal surveillance or transporting drugs across borders?
Autonomous optical-based detection offers a powerful way to counter these threats. The AirScout Sentry system from Walaris mitigates airspace risks by combining industrial cameras, edge processing, and computer vision and artificial intelligence algorithms. For each deployment of the system, several detection cameras continuously monitor an area of interest, passing subsequent detections to a verification camera that confirms the threat and alerts operators or rejects false-positive detections.
If the system software detects other relevant data such as birds or a drone, it captures the object's coordinates. A pan-tilt-zoom algorithm triggers a camera to zoom in on the coordinates to further investigate the object, while AI and range-to-focus control algorithms allow the system to find the target, maintain a clear image, and classify, identify, and track it. Using what Kyle Meloney, Cofounder and CEO of Walaris, calls "beyond-state-of-the-art" AI algorithms, the system can make optical classifications in near real time.
AirScout's proprietary detection, classification, and PTZ algorithms — among others — represent the heart of the AirScout system. Running software that involves complex AI algorithms, of course, requires powerful processing capabilities, so Walaris sourced a custom industrial PC from CoastIPC with an NVIDIA graphics processing unit (GPU) to run the AirScout software.
"Mission-critical applications require reliable, robust PCs," says Meloney. "Every PC supplied by CoastIPC has come on time and fit the exact requirements we specified to deliver and execute on every mission without failure."
Read more about the AirScout system and how it works in this Novel vision system autonomously detects and identifies drone threats article written by John DeWaal, President, CoastIPC.
To learn how our industrial computers can help power your system today, contact us here or reach us at 866-412-6278.