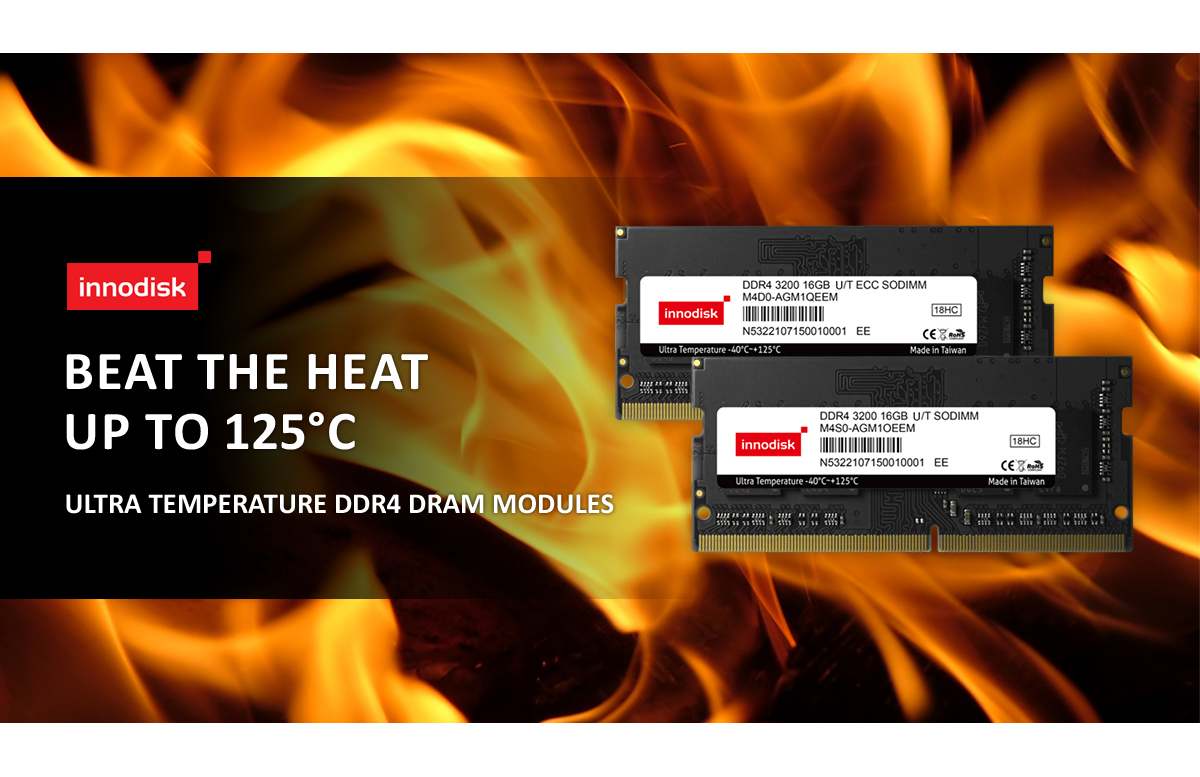 System memory is a vital component of every industrial computing system, helping to ensure that processing tasks run optimally day in, day out without fail. Designers of systems for industrial, mission-critical, and other high-value applications often put considerable thought and effort into selecting memory and other components that not only work well together but in various environments. Environmental and robustness factors such as shock, vibration, humidity, and temperature are just as important as processing performance and capability. Innodisk aims to solve many of the challenges related to system memory in extreme environments with the availability of their Ultra Temperature DDR4 DRAM module.
Commercial and Industrial Components at a Glance
Many people in the industrial computing world are familiar with the terms commercial and industrial as they relate to electronic components and assemblies. Generally speaking, commercial-grade components are suited to everyday use in typical applications and environments. They usually aren't rated for use in environments subjected to high levels of vibration or dust and other contaminants or where temperatures drop below freezing or exceed 70oC or 80oC.
Industrial-grade components, on the other hand, build on the characteristics of their commercial-grade counterparts. They sometimes offer slight improvements in robustness, but the biggest difference is in their supported operating temperature range, extending cold temperature support below the freezing mark — as low as -40oC — and maximum operating temperatures of 80oC or 85oC. These improvements satisfy the needs of a wide segment of applications, but what if your application requires reliable operation in even more extreme conditions?
To sustain the impacts of harsh environments, system designers often must make use of added mechanical design to protect components that are at risk of being exposed to out-of-spec conditions such as extreme hot or extreme cold. This comes at increased system cost, complexity, and risk. Innodisk aims to help eliminate these extra complexities and challenges with the availability of their Ultra Temperature DDR DRAM module.
What Is Ultra Temperature DDR4 and What Makes It Different?
Identifiable by its black PCB (printed circuit board), Innodisk's Ultra Temperature DDR4 is available in 16GB and 32GB SODIMM and in 8GB, 16GB and 32GB density ECC SODIMM configurations. Running at speeds of 3200 MHz, and with a host of design features intended to maximize reliability and robustness in harsh environments, the Ultra Temperature DDR4 represents a major step forward over traditional industrial-grade memory.
Ultra Temperature DDR4 supports temperatures of -40oC to 125oC, eliminating one of the most significant roadblocks in compact system design simply by increasing the safe operating temperature range. In addition, these memory modules incorporate side fill as part of their manufacturing process, which increases the strength and reliability of solder joints by making them more resilient against the effects of temperature and other external forces. The electroplating used on the gold fingers of the module is also thicker — 45µ" as opposed to the more typical 30µ" found on comparable industrial modules. Antisulfuration coating is also standard, helping to protect against sulfur corrosion of silver alloys.
In terms of testing and reliability, Innodisk completes 100 cycles of insertion/extraction as part of their gold finger testing. Modules are also rated to withstand thermal shock and vibration in accordance with MIL-STD-810G and have passed ISTA-1A drop testing and EIJA-4072 bend testing. For customers who need an even greater environmental resistance, Innodisk offers optional conformal coating and can also fit the modules with a heat spreader and customer-specific labeling and SPD codes.
Target Applications
Ultra Temperature DDR4 shows its true value in the most demanding applications — those that require compact computing systems in harsh environments with extreme temperature variation and/or highs and lows. Following are some applications that could benefit from the Ultra Temperature DDR4:
Autonomous and Electric Vehicles and Systems: Autonomous vehicles rely on increased processing capability to keep up with the ever-growing data being collected and delivered by on-board sensors. These systems, which are located in small, unventilated enclosures, generate a lot of heat. Level 3 and Level 4 charging stations for electric vehicles also rely on computer systems and are situated in outdoor environments, subjected to nature's range of temperatures.
Fanless Embedded Systems: Fanless embedded systems are often installed where there are minimal opportunities to add heatsinks or other cooling methods. The electronics within must be able to withstand elevated operating temperatures for prolonged periods of time.
Mission Critical and Defense: Command, control, communications, computers, intelligence, surveillance and reconnaissance (C4ISR) systems make use of high-performance computing, and these systems must meet stringent MIL-STD environmental standards in accordance with requirements for defense systems. Similarly, mission-critical systems demand complete reliability regardless of the environment in which they are deployed.
Not all applications require the use of specialized components such as Innodisk's Ultra Temperature DDR4, while others may benefit from the technology despite not initially appearing to. Professional expertise is often your biggest asset when designing a system that may need to meet specific industrial, environmental or performance requirements. The team of experts at CoastIPC can work with you to understand your application and propose solutions that meet your unique needs, requirements, and budget.
For more information about Innodisk's Ultra Temperature DDR4 and other memory options capable of providing the best fit for your industrial computer application, please contact our product experts at [email protected] or 866-412-6278.