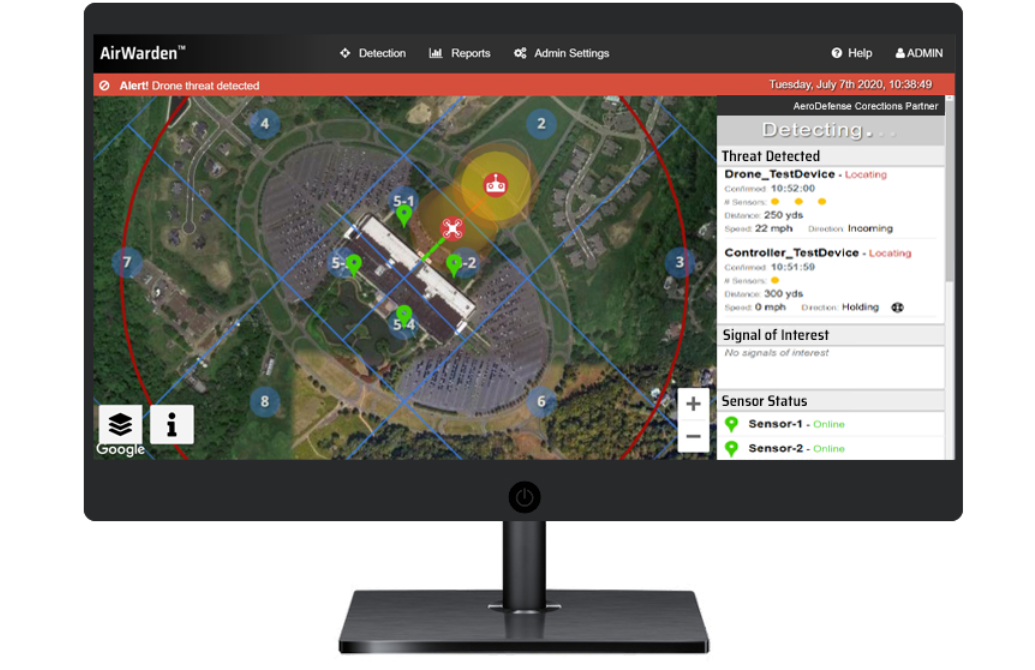 Commercial and consumer drone popularity has soared over the past several years and won't be slowing down any time soon. Sometimes called uncrewed aerial vehicles (UAVs), drones serve multiple purposes, including consumer, commercial, and military applications that require high-quality video and images.
In the properly trained hands, drones provide disparate benefits across different verticals. In the wrong hands, however, drones can be used for nefarious deeds, including contraband smuggling, flying over restricted airspace, surveillance, voyeurism, and even carrying out weaponized attacks. Even people using drones for fun — without bad intentions — can inadvertently cause a public safety threat.
Early detection of drones is the best method for mitigating threats. With its AirWarden™ drone detection technology, AeroDefense (Oceanport, New Jersey, www.aerodefense.tech) offers a novel system that detects, classifies, locates, and tracks known and unidentified drones before they can cause security breaches.
AirWarden uses radio frequency (RF) signatures from drones and controllers to locate both devices simultaneously. Instead of simply extracting drone serial numbers or other data contained in RF signals — which violates federal surveillance laws — the system uses spectrum sensing, which simply looks for the presence of RF signals that act like drone signals. Not only does the system tell a user where a drone is in a certain airspace, but it also pinpoints the location of the person controlling that drone from the ground, which is especially important since all but a handful of federal government agencies have prohibited physically taking a drone out of the sky. When a pilot powers up a drone and establishes a connection, an early warning goes to the security team of the company using AirWarden, so a response team can investigate the threat.
In the AirWarden system, four or more fixed sensors are housed in a weatherproof, NEMA-rated enclosure box, and a companion 4-inch, 4-ounce antenna is placed as high as necessary for the best line of sight. To run the system, a rugged and fanless onboard sensor computer from CoastIPC fits inside the enclosure, supporting a low system profile.
Read more about the AirScout system and how it works in this Drone Detection System Locates and Tracks Drones Before They Become Threats article written by John DeWaal, President, CoastIPC.
To learn how our industrial computers can help power your system today, contact us here or reach us at 866-412-6278.