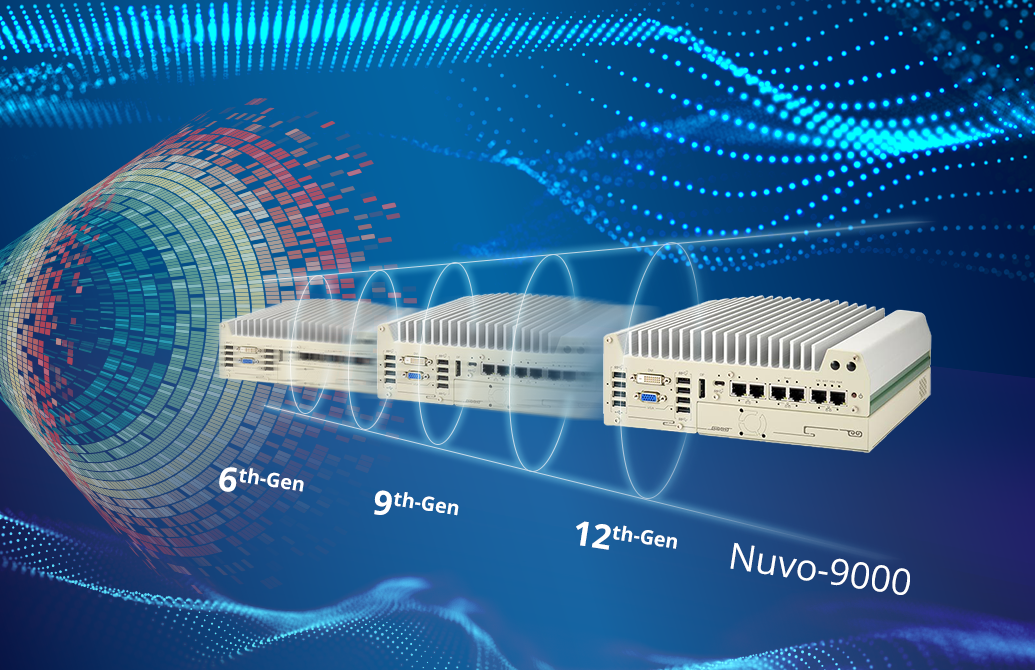 Neousys Technology has officially released its newest series of fanless, embedded computers—the Nuvo-9000 and Nuvo-9531. This latest generation features a power boost, faster processing, and almost twice the bandwidth of the previous 7000 series. Find the Neousys Nuvo-9000 Series on our website to pre-order today. Here's what you need to know about the latest models and what they can contribute to your project.
These models are more powerful than the previous series
Power upgrades are expected when companies release new models, but just how much of an improvement is the 9000-series over the 7000? Here are a few key features:
Powered by the 12-generation Alder Lake Core™ i processor, the new series is nearly twice as fast as the previous 7000 models.
It offers 16 cores and 24 threads in a CPU to increase workload capability and computational performance.
The 9000 series moves from DDR4 memory to the DDR5, providing nearly twice the processing bandwidth.

In addition, the new series features faster 2.5GbE LAN ports (also available with a PoE+ option), along with multiple other connectors:
6 USB 3.2 Gen 2 (10 Gbps) in type-A connectors
1 USB 3.2 Gen 2x2 (20 Gbps) in a brand new type-C connector
4 Serial Ports
1 audio
An upgraded M.2 Gen4 x4 slot, supporting the latest NVMe SSDs with disk read and write speeds of up to 7000 MB/s.
The 9000-series uses a flexible expansion design using Neousys' patented expansion Cassette module and MezIO® interface. The 9000 series continues to use these components to provide more options to customize your computer without the worry of fit and compatibility.
What's the difference between 9000 and 9531?
The Nuvo-9531 is just two-thirds the size of the standard 9000 model, making it perfect for installations with limited space—think mobile robots or equipment. It also includes similar feature-rich I/O functions:
4 Ethernet connections
4 USB 3.2 Gen 1
2 USB 2.0
2 video outputs
2 COM
4-CH isolated DI
4-CH isolated DO ports.
The Nuvo-9531 offers the same compute power in a smaller package. If the I/O is a match for your project, the Nuvo-9531 may be your best choice.
What users can expect from the 9000-series
With faster, more efficient processing, speed, and memory, Neousys has expanded what machine builders can accomplish with the latest generation. These innovations offer solutions for automation applications and industrial edge computing. And thanks to the smaller size of the 9531 series, users aren't constrained by space limitations within standard installations.
Users will also see an increase in workload power thanks to the 16 core/24 thread configuration of the 12th Gen Intel processor. The addition of PCIe4 will allow for the use of more sophisticated expansion options to reach greater performance. New applications and capabilities are at hand with PCIe4.
If your project is ready to be designed and built with the most powerful, rugged, and reliable industrial computers available, CoastIPC is here to answer questions and build you the perfect configuration. Want to know more about the Nuvo 9000? Contact CoastIPC with all your questions or to upgrade your machines.