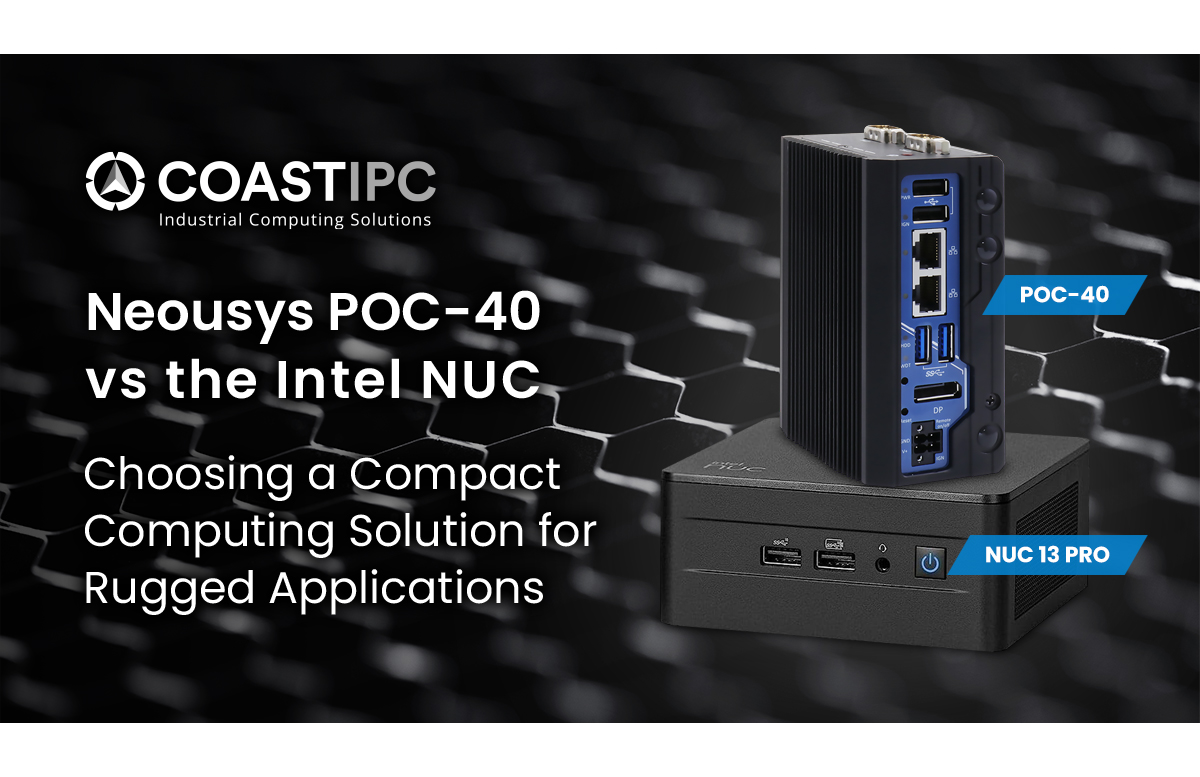 A major consideration when building an automation, machine vision, or other industrial system often centers around computer selection. Ensuring adequate connectivity and processing for the application is top-of-mind along with ensuring that the PC is physically optimized for the target application — size, weight, power, and the ability to handle environmental conditions such as temperature, dirt, dust, and moisture.
With many applications looking to leverage small form-factor and compact solutions and take some amount of processing to the edge, integrators and system makers have plenty of options available to them. Among these are the category of mini-PCs — smaller than most industrial PCs (IPCs) with plenty of performance punch and connectivity for the average application. Two popular options available to consumers in this category are the Neousys POC-40 Industrial PC and the Intel NUC (Next Unit of Computing).
Suited to the Comforts of Home
Intel NUCs have enjoyed widespread popularity for their small form-factor, good performance, and attractive price point. They are well suited to consumer applications at home or in the office — managing home theater media and gaming tasks, and working as desktop replacements. They are sometimes utilized in edge computing and industrial settings (in place of purpose-built IPCs) due to their attractive price-point and the wide variety of available CPUs and memory configurations, which can bring an advantage in terms of processing potential. Their commercial grade design, however, is not ideal for industrial settings and imposes limitations in these environments, putting long-term system reliability and robustness at risk.
When the Going Gets Tough
For system integrators and designers looking for a compact, rugged mini-PC solution better suited for the demands of industrial applications, Neousys has answered the call. The POC-40 extreme compact embedded controller offers a fanless, rugged design in a compact package weighing just over a pound. Although the IPC's dual core Intel Atom x6211E processor may not offer the same performance specifications as some of the competitive NUC offerings, the POC-40 is designed for durability and reliability and punches above its weight with its overall feature set.
Supporting memory configurations of up to 32GB and storage capacity of up to 2TB, the rugged design has a safe operating temperature range of -25°C to 70°C and meets MIL-STD-810G shock and vibration specifications. Standard connectivity includes multiple Gigabit Ethernet and USB 3.1 ports along with four serial communication ports and optional 4-channel isolated digital I/O — key interfaces for many industrial applications that require external device communication and control. For those needing wireless connectivity, the POC-40 supports both cellular 4G/5G and Wi-Fi 5/6, thanks to the included M.2 expansion slots, making the IPC ideal for connected factory and industrial Internet of things (IIoT) applications.
Priced to Contend
Much of the Intel NUCs popularity is derived from its attractive cost structure. In many cases, designers will make choices based on cost as industrial PCs can bring with them the higher costs associated with performing in more rigorous operating environments. Neousys, however, has established an entry price of just over $500 for the POC-40, making it an attractive option worthy of consideration for industrial, edge, and IIoT computing needs.
Of course, there is often more to selecting a computer than considering just one or two specifications. Professional expertise is often your biggest asset when designing a system that needs to meet specific industrial, environmental, or performance requirements. CoastIPC is an authorized distributor of Neousys Technology and other industrial PC products — including the POC-40 — and offers a host of user-specific configuration options in either Windows or Linux operating systems. This allows you to tailor memory, storage, and wireless configurations to ensure that each unit meets the specific needs of your product. If you're trying to decide whether the POC-40 or another industrial PC are best for your project, the team of experts at CoastIPC can work with you to understand your application and then propose solutions that meet your unique needs, requirements, and budget.
For more information about Neousys or other computing options capable of providing the best fit for your industrial computer application, please contact our product experts at [email protected] or 866-412-6278.