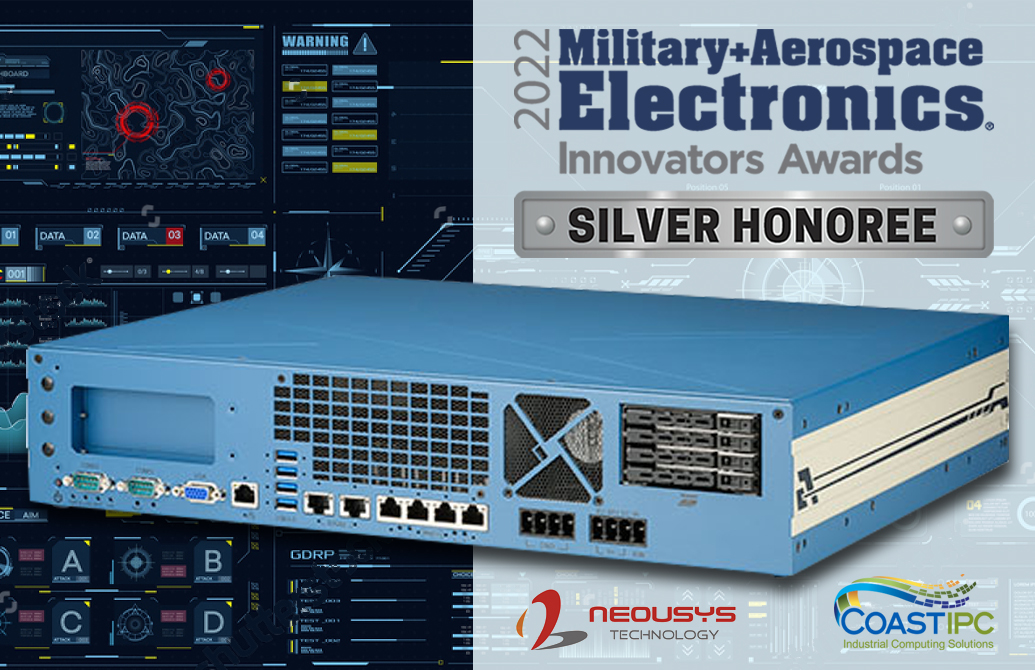 Industrial and rugged embedded computers and systems provider Neousys Technology — a CoastIPC partner — has been honored with a 2022 Military + Aerospace Electronics Innovators Award for its rugged RGS-8805GC HPC server.
First launched in 2016, the Military + Aerospace Electronics Innovators Awards recognize groundbreaking contributions to the military and aerospace electronics industry as determined by an impartial, esteemed panel of judges from the aerospace and defense community. At the 2022 awards, the RGS-8805GC was named a silver honoree. The server features AMD EPYC 7003 series processors, supports one NVIDIA RTX A6000/A4500 GPU with proprietary heat dissipation, and features two Intel X550-AT2 10G Ethernet ports and four Intel I350-AM4 GbE ports.
Into the Future of Edge AI
CoastIPC began working with Neousys Technology in 2012 and since then has become a valued partner for the Taiwan-based company.
"Since our partnership began 10 years ago, CoastIPC has seen Neousys Technology innovate in the industrial computing space, including introducing the first GPU-accelerated computer, the Nuvo-6108GC," said John DeWaal, president of CoastIPC. "Today, Neousys continues to push processing power forward with products like its NVIDIA Jetson Xavier NX-powered NRU-52S and the Intel 12th-gen processor-based Nuvo-9006E."
Available through CoastIPC, the Nuvo-9006E rugged embedded computer features a patented cassette for PCI/PCIe add-on card accommodation, multiple port options, and the patented MezIO interface for easy function expansion. The NRU-52S edge AI computer, meanwhile, delivers 21 tera operations per second (TOPS) for artificial intelligence (AI) applications requiring H.264/H.265 video decoding and real-time inference. The computer's NVIDIA Jetson Xavier NX includes a six-core ARM CPU and a NVIDIA Volta GPU with 384 CUDA cores, 48 tensor cores, and two NVIDIA deep learning accelerators (NVDLAs). The NRU-52S can decode up to 44 streams of 1080p video at 30 fps while consuming only 15 W of power.
"Applications such as deep learning and AI require industrial PCs with powerful processing and graphics capabilities, and products like the NRU-52S help propel these applications forward," said DeWaal.
As part of its research and development for embedded computing platforms, Neousys Technology will actively devote resources to creating new platforms based on the Jetson AGX Orin system-on-module. With up to 275 TOPS and 8X the performance of the previous model, the Jetson AGX Orin is NVIDIA's most powerful edge AI platform. As always, once products are released by Neousys Technologies, CoastIPC will have them available and ready for both new and existing customers, according to DeWaal.
"For a decade now, CoastIPC has been one of our most esteemed partners in North America due to their expertise in the markets and industries we serve and the expectations that they continually exceed," said
Roy Wang, vice president of Neousys Technology. "Both now and going forward, we value our relationship with CoastIPC and look forward to the next 10 years of cooperation."
For questions on industrial computing, edge AI, or Neousys Technology products, contact us here or reach out at 866-412-6278.