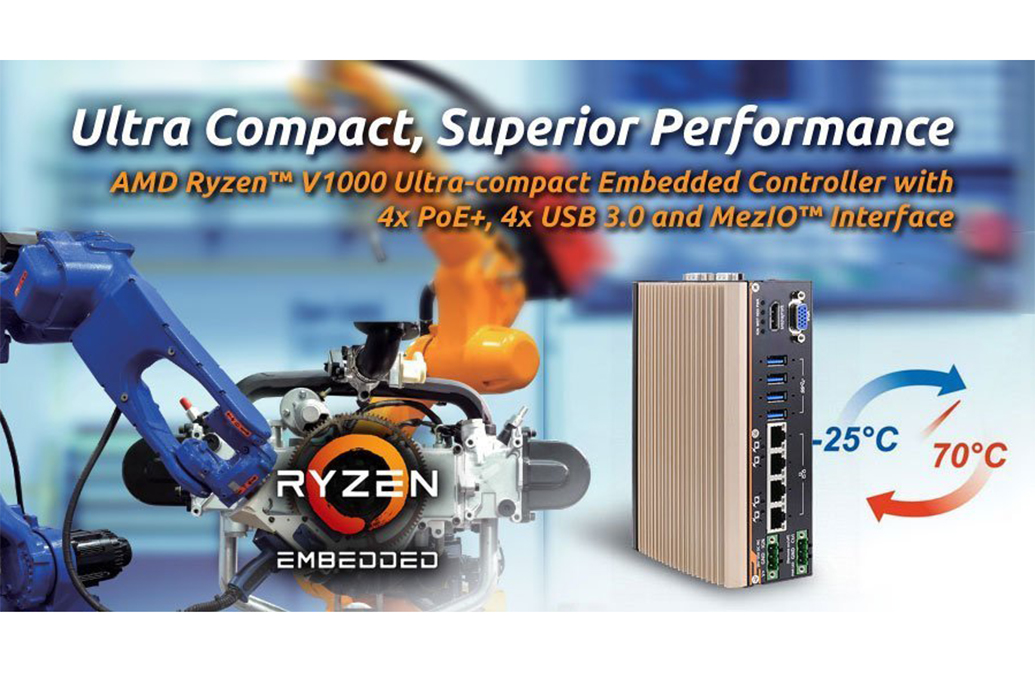 Rugged Ultra Compact Embedded Controller
CoastIPC announces the arrival of the POC-500 series ultra-compact embedded controller. Powered by the AMD Ryzen™ platform with a 4-core/8-thread V1000 series processor, it supports the latest 3200MHz DDR4 memory module up to 16GB. The POC-500 features exceptional I/O design including 4x screw-lockable PoE+ GbE ports on the Intel I350-AM controller, 4x screw-lockable USB 3.0 ports, 1x full mini-PCIe socket for wireless communications or 4G/LTE module, and Neousys' patented MezIO expansion for future upgrades. It meets the United States Military Standard (MIL-STD-810G), and operates between -25°C to 70°C with 100% CPU loading.
The POC-500 series is a system made for rugged environments, delivering powerful CPU/GPU performance for versatile applications where performance and size matter.
The POC-500 offers high performance in a compact form factor, essentially combining two of AMD's strongest IP blocks–the Zen x86 core architecture and Vega GPU capabilities–into a small BGA package. With its 4-core/8-thread processor, the POC-500 delivers top-of-class CPU performance among its rivals. Along with the Radeon Vega GPU, the POC-500 series delivers unprecedented 3.6 TFLOPS in FP16–previously only seen in a larger form factor embedded controllers.
When it comes to applications requiring high graphics power, the POC-500 series offers 1x Display port supporting 4K video output and 1x M.2 2280 NVMe SSD (PCIe Gen3 x2) for fast data writing/reading. It can also offload heavy video handling to dedicated silicon which is important for video capture and playback with the H.265 encode/decode and the VP9 decode provided by the AMD Ryzen™ platform.
The POC-500, measuring just 63 x 176 x 116 mm (2.5″ x 6.9″ x 4.6″) provides everything needed for an embedded platform. With front-accessible I/O ports including PoE+ ports, USB3.0, DVI and COM port at the top, and DINRAIL mount, the POC-500 series is ideal to be embedded inside a KIOSK, machine, cabinet or other space-limited environment. Plus, with Neousys' proven thermal dissipation (or fanless) design heritage, the POC-500 series thrives in confined space.
Industrial Application Oriented Features
Natively integrated on-board I/O
As a DINRAIL mounting type industrial embedded computer, POC-500 series offers carefully selected front-accessible I/O including 4x 802.3at PoE+ ports to supply 25W power to connected devices such as IP cameras, 4x USB 3.0 ports, and 4x COM ports for data communication between different type of devices. And best of all, all data ports come with a screw-lock mechanism so that the cables are always secured. If those I/O are not enough for your typical applications, POC-500 series also supports Neousys' patented MezIO™ modules for additional I/O.
Always stay connected
Wireless connectivity can be critical for today's applications and the POC-500 series offer a full-size mini-PCIe socket with internal SIM socket for 4G/LTE or WiFi module. Moreover, Neousys Technology provides a pre-certified 4G/LTE socket modem with selective USA telecommunication operators for fast project implementation.
Industrial grade reliability
Last but not least, the POC-500 series is designed to function 24/7 under 100% CPU load at wide temperature environment ranging from -2°C to 70°C. Plus, with its wide range 8-35V DC power input, the POC-500 series can easily be adapted and deployed to various applications.
Applications include
Industrial Controls and Automation
Today's trend for industrial control and automation is demanding smaller controllers with greater performance. The POC-500 series is the ideal all-in-one embedded controller thanks to its 4-core/8-thread processor, compact size, and industrial oriented I/O ports. It has all the features you need in one package saving you the hassle of external integration.
Surveillance
Modern surveillance is often integrated with video analytic which all require both CPU and GPU power to maximize the video analysis efficiency. With its AMD Ryzen™ platform, the POC-500 series delivers powerful graphics capabilities and processing power. The integrated PoE+ ports allow up to 4x IP cameras to be connected at the same time without managing additional wires. The wireless connectivity can report any abnormal event. The POC-500 series is the perfect solution for a standalone rugged video analytic controller.
Digital Signage
With never seen before graphics power in such a compact embedded controller, the POC-500 can deliver a stunning level of true [email protected] video meeting the viewer's expectation for modern video contents. With its compact size and rugged design, the POC-500 series can easily be mounted inside a cabinet or kiosk for indoor or outdoor deployment.
The POC-500 series models are available in two CPU variants: the V1807B (45W) variant is for high computing power demand in small form factor, while the V1605B (15W) variant is designed for rugged fanless operation.
POC-500 Series Key Features
AMD Ryzen™ embedded V1000 series quad-core 15W/45W CPU
-25°C to 70°C rugged wide-temperature operation
Four Gigabit PoE+ ports with screw-lock
Four USB 3.0 ports with screw-lock
M.2 2280 M key NVMe (Gen3 x2) socket for fast storage access
DP + VGA dual display outputs (4K resolution via DP)
Front I/O access and DIN-rail mounting design