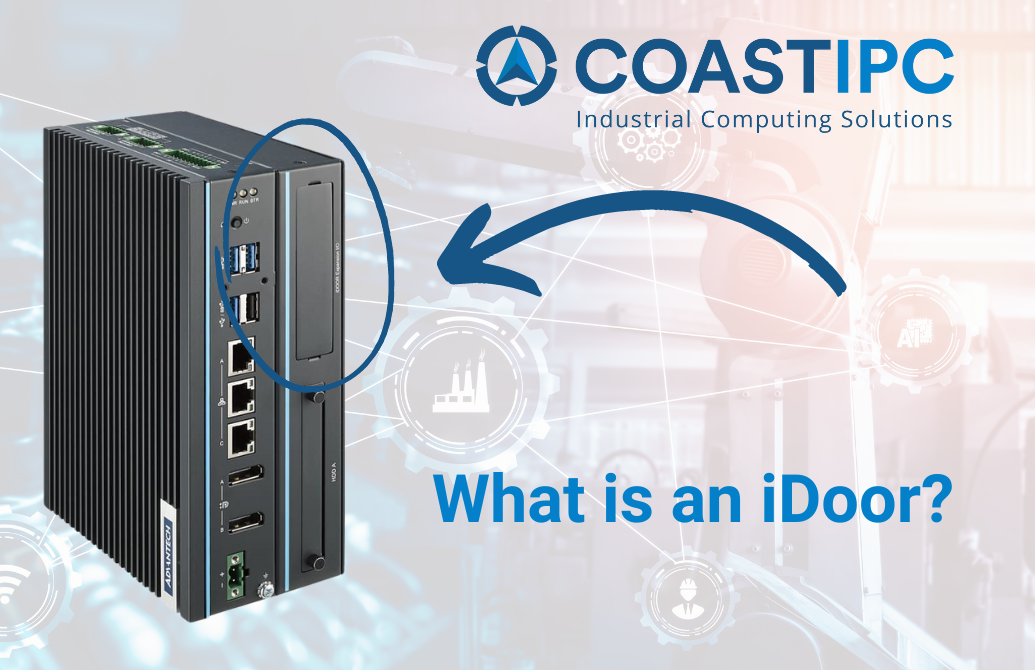 Having the right signal inputs and outputs (I/O) on an industrial computer (IPC) is essential. Custom designs can meet this need but cost considerations favor using a stock design. Having the same, stock IPC design in multiple systems helps minimize overall inventory and facility maintenance — even if the individual system needs differ slightly and waste the unused I/O. Advantech's iDoor technology takes a modular approach to implementing I/O in an industrial PC to meet specific installation needs with otherwise identical units.
What is an iDoor? Three-Part I/O Approach
The iDoor design approach separates I/O into three elements: a back panel plate that holds the I/O connectors, the interface electronics, and a standardized cable connecting the two. For IPCs with iDoor technology built in, like Advantech's UNO-2000 series, the I/O plate fits a dedicated expansion cutout on the IPC's back panel. The interface electronics reside on a Mini-PCI Express (mPCIe) card carried on the motherboard. This three-part approach allows users to configure their IPC's I/O capability simply by installing the appropriate panel and mPCIe card. The standardized cable simplifies internal cable routing and management.
Advantech offers additional industrial computing products that leverage iDoor technology, including the UNO-148 fanless DIN-rail industrial computer, which features an 11th gen Intel Core i processor. However, the company offers several different iDoor modules in industrial I/O, wireless communication, and industrial fieldbus options.
"Meet specific installation needs with otherwise identical units."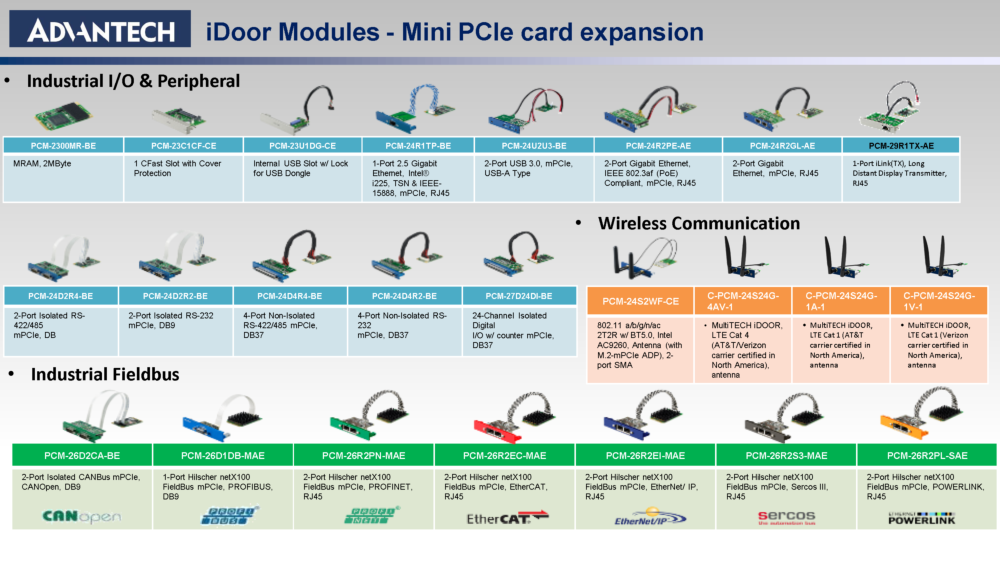 Even computers not specifically designed for iDoor installations can use the technology. I/O plates are available that fit the standard PCI/PCIe expansion card cutouts built into many chassis designs. If the IPC does not have an mPCIe socket on its motherboard, there are iDoor cards designed to occupy a standard PCIe slot to provide the mPCIe socket.
Standard Interface Options
A wide range of industrial I/O interfaces are available for iDoor. Fieldbus protocols such as EtherNet/IP, PROFIBUS, PROBINET, and CANopen are supported. Communications options include USB, UART, RS-232, WiFi, and Gigabit Ethernet. Multichannel I/O units provide isolated digital and analog signal handling, and iDoor cards that provide a combination of I/O and solid-state disk memory are also available.
To help avoid confusion when otherwise identical computers have differing I/O capability, iDoor employs a color-coding scheme on its I/O plates. Many panels use the primary color of the corresponding interface standard's logo for quick identification. The EtherCAT interface panel, for example, is red, while the CANopen panel is green.
Customization Options
Advantech has made iDoor an open standard, giving users the option of creating custom I/O schemes. Any interface available on a standard mPCIe card can be utilized. Users are also free to develop their own custom mPCIe cards to meet their specific needs.
The iDoor approach allows users to customize their IPCs for specific installation needs while utilizing otherwise identical units to simplify inventory and maintenance. Further, the approach helps future proof the installations. As I/O technology advances or system needs change, installations can be upgraded simply by replacing the corresponding iDoor modules.
If you've got a new system in development or are replacing your IPCs, consider incorporating iDoor technology. At CoastIPC, we have the products and experience to help you plan and implement iDoor solutions to meet your needs. You can reach us at 866-412-6278 or [email protected] with questions about iDoor or any other industrial computing needs.