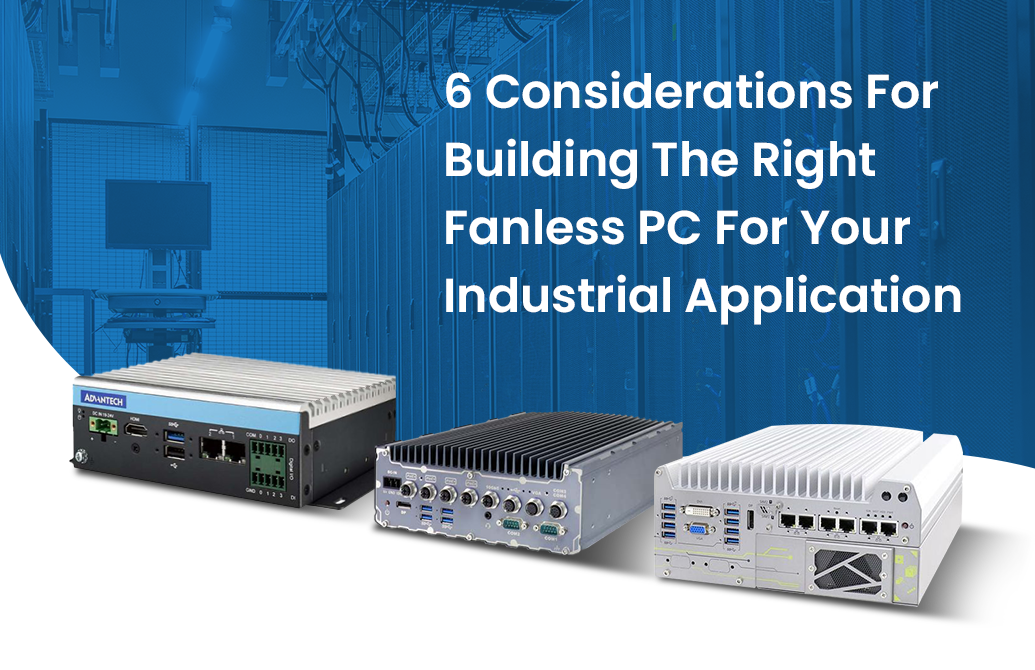 Keeping a PC cool is integral to its performance. For industrial uses, tight spaces, or rugged applications, a fanless PC is the best option to ensure longevity and durability in these specialized settings. At CoastIPC, we choose parts from only leading suppliers to provide high-quality industrial PCs that meet or exceed expectations, but what goes into building the right one for your specific application? Here's what you need to know.
#1: Discovery Phase
First, it is important to gain a detailed understanding of your industrial PC needs. During the Discovery Phase, we ask about your general application setting and what you need to accomplish with your project. Once this information is in place, we can determine base requirements and desired characteristics and highlight recommendations for what we believe will create an outstanding fanless industrial computer tailored to you.
#2: Define Parameters
To determine your PC's base requirements, we consider several factors:
Environmental factors: Ambient heat, dust, and other environmental features can have serious consequences for hardware. We look at what your PC is up against and plan accordingly to help with durability and performance.
Size constraints: Not all spaces offer the same level of accommodation. Knowing ahead of time if you have size constraints prevents disappointments during installation day.
Power constraints: We find out if your power has any unique parameters. For example, low power can be a factor with a PC running edge applications.
In addition, fanless PCs require a dedicated power supply, so we consider that during build and installation.
In addition, we look at any other parameters like cable management or ventilation that would affect the final hardware choices.
#3: Choose Compute Power
We also help you decide what you need to accommodate your compute power needs:
Platform: We offer the latest platforms, such as the Jetson system, a "system on module" that's more efficient and uses less power. Alternatively, we can also use more traditional X86 systems running on windows and Linux utilizing Intel or AMD CPUs.
Specialty Devices: Specialty devices such as GPU, TPU, and VPU add-ons can enhance compute performance for specified tasks. For example, CPU offers broad, generalized compute power, GPU/TPU is optimized for machine learning, and VPU is optimized for computer vision.
#4: Determine Memory Needs
We choose a memory option that balances capacity, performance, and cost. We define specific parameters—such as fast-paced applications involving machine vision that require more RAM—that would determine how much memory is necessary to perform well. For example, an almond factory installing vision equipment to grade each almond would need more RAM to ensure accuracy and processing speed. These needs would differ from a traditional factory leveraging PCs merely for documentation.
We assist in choosing between upgrading to the latest performance-oriented options and cost. The DDR4 is a more cost-effective option that still offers excellent performance, while the 2020 release of the DDR5 brought greater max memory capacity and higher frequencies with less power input. Our consultations help determine if the extra system cost is worth it based on your business objectives and budget.
#5: Choose a Storage Drive
The storage drive is where the bulk of data is stored and transferred. Faster data transfer means faster performance. Once upon a time, hard disk drives (HDD) were the norm, but HDD is rarely used anymore in industrial applications. Thanks to multiple moving parts, they'll fail much faster than newer storage drives. The two primary SSD interfaces are:
SATA III - SATA has been the traditional standard for years. It has more than enough read/write speed to satisfy many basic applications. It is available in a variety of sizes and shapes.
NVMe - A cutting-edge choice that utilizes thousands of processing queues to bring data from storage into RAM five times faster. Plus, investing in cutting edge now relieves some of the upgrade burdens later.
#6: Determine your Input/Output (I/O) Needs
​​In many instances, I/O options affect the configuration of your PC. To meet power requirements, we prioritize base needs and consider how they affect the rest of the system we've configured so far. From there, we can reverse engineer what can be cut to meet power requirements. For example, a greater number of PoE++ cameras will require a larger power supply. Other I/O options include:
USB
Serial ports
Digital I/O
- Camera trigger
- Ignition function
PCIe - full slot port
4G, 5G, or Cellular LTE
Managing Delivery Expectations for Your Custom Fanless PC
Although the complexities of the current market can make receiving the perfect build in the time you need it challenging, our consultants are experts in helping find a compromise on characteristics or price that will get you as close to your ideal as possible. We not only offer guidance for what specifications and parts work best but can suggest alternatives in the event of a supply chain delay or shortage.
At CoastIPC, we partner with large quality supplier networks that allow us to find a compromise on your delivery date (if necessary) if the timeline is an issue. Our close association with manufacturers is your insider knowledge to make the right decision. While market complexities can make it tricky to get your exact build, exactly when you need it, working with CoastIPC can help you make the best decisions for the best outcomes. To learn how our industrial computers can help power your system today, contact us at 866-412-6278 or [email protected].