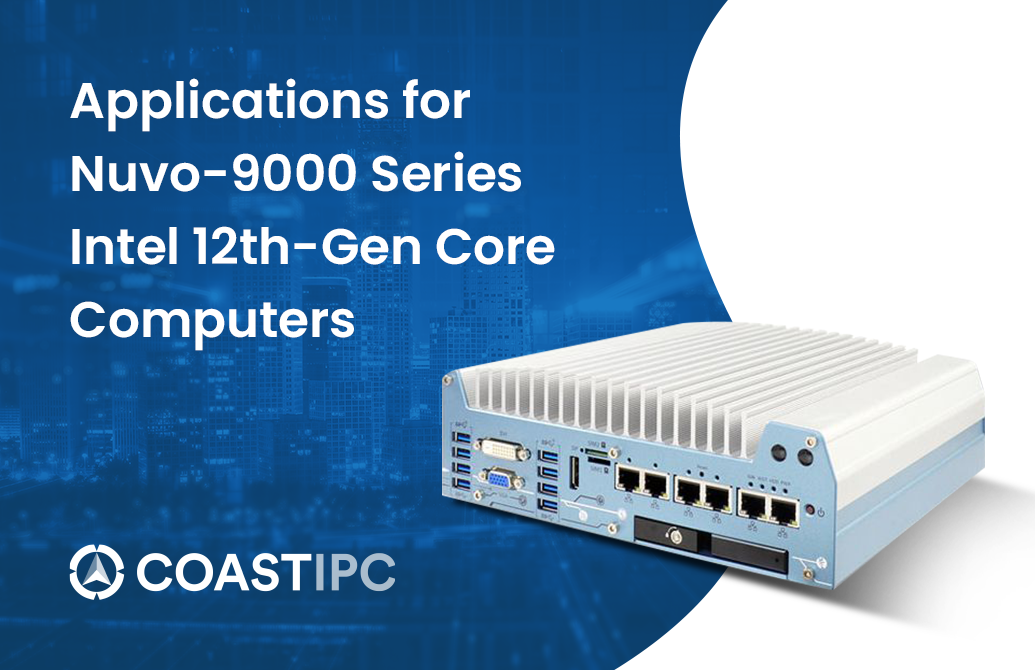 The release of the Nuvo-9000 series computer is delivering a myriad of exciting new updates of a proven design with new capabilities for industrial applications. The 9000 series has been described as a swiss-army knife well equipped to handle the latest cutting-edge technology. Whether robotics, machine vision, or powering the world of autonomous vehicles—think of an application, and the 9000-series can probably handle it. Let's explore what makes this innovative series so capable.
A machine perfect for industrial automation
Automation is a key feature of digital transformation for any industry. The rate of processing needs has often outstripped the availability of devices capable of running such applications, so the Nuvo-9000 with a variety of 12th-generation Intel core CPU selections arrives at an opportune time. Here are just a few applications that we're anticipating.
Greater edge data capability
One of the most significant advancements in the industry is the ability to process data at the edge. IoT sensor data makes managing large, distributed systems, such as utility networks, easier. However, without processing power like what's available with the 9000 series , that data can't be turned into information and acted upon.
The 12th-gen processor is enhanced specifically for computing at the edge. It includes increased core counts and AI capabilities, along with better media features, for graphics and display. Plus, the hybrid core design and compatibility with the newer DDR5 memory provide for more memory bandwidth allowing users to allocate resources for high-intensity processing while simultaneously pushing low-power tasks to the background.
Improved embedded systems
The Nuvo-9000 series embedded computers have Neousys' patented expansion cassette module and MezIO interface. This flexibility allows users to tailor the computer to suit a wide range of applications—no complex modifications required.
Specifically, the Nuvo-9531 model is two-thirds the size of the remaining members of the 9000-series and is designed for limited space installations. Users can customize their 9000 series computer solution with necessary memory and storage, additional I/O boards, and specific processors and operating systems. This opens up applications in robotic arms on factory or packing floors or in semiconductor equipment, for example.
Machine vision facilitation
In manufacturing and supply chains, in particular, machine vision capability is vital to operations. The Nuvo-9000 series features high-speed I/O ports, including six PoE-capable gigabit ethernet ports. The 12th-generation core significantly boosts processing speed where machine vision applications require high-speed data transfer with low latency.
Machine vision elevates robotics, autonomous machines, quality control, and inspections. These applications make the Nuvo-9531, in particular, a viable choice because it fits in less traditional locations. However, the entire series, thanks to the 12th-gen core, offers a significant boost in power for companies that have upgraded their software to something capable of taking advantage of that boost.
Who should take advantage of the Neousys Nuvo-9000 Series Intel 12th-Gen Core Computers
The 9000-series offers incredible power for companies able to harness it. It works best for applications with complex processing loads by offering the fastest computing power of its type on the market. Now companies who are moving swiftly on software development can push the limits of processing power to realize their vision..
Some potential use cases we could see coming down the line:
A large bank needs to upgrade security: The 9000-series offers more advanced tech that will last longer than other hardware choices, allowing the bank to get more time without a need for a hardware upgrade, and getting more out of their investment as a result. Hackers and thieves have a sophisticated set of tools, and the 9000 series offers a platform for defense.
A food processing plant: The 9000-series, particularly the Nuvo-9531 model, provides an embedded computer capable of installation in small spaces. This allows the plant more freedom to embed computers in machinery while ensuring high-powered performance in difficult conditions.
A manufacturing facility: The Nuvo-9000 series allows the facility to continue digital transformation efforts by supporting accelerated deep learning capabilities without needing additional hardware. Vision hardware and software now have a place to run with their capabilities.
A transportation company: Using augmented reality, the transportation company wants to manage fleet vehicle maintenance. Intelligent sensors monitor trucks, and drivers receive maintenance instructions and new orders through the AR, improving efficiency. All this is possible thanks to capabilities like 20 Gbps data transfer speeds to external devices.
And for each of these use cases and more, hardware-based security helps provide an extra layer of protection for vulnerable IoT devices, AI tools, and other networked solutions required for automation and control platforms.
And for each of these use cases and more, hardware-based security helps provide an extra layer of protection for vulnerable IoT devices, AI tools, and other networked solutions required for automation and control platforms.
Building the ideal computer for industrial automation
The latest generation PC from Neousys can handle just about any use case in industrial automation and beyond. Users can choose from flexible features, and the series offers ultra-quiet and clean, fanless operation. It's nearly twice as fast as the previous 7000-series and expands what machine builders can accomplish.
The extra workload power of the 12th-generation 16 core/24 thread configuration is a benefit for companies that have upgraded software to take advantage or are in the process of transformation. If you're ready to see what use cases the Nuvo-9000 series, CoastIPC is ready to help you build what you need to your exact specifications--quickly and efficiently.
Contact CoastIPC with questions or to begin the process of your build. We can facilitate decision-making and configurations that solve your most pressing challenges while helping reduce the time to installation.